Alex Gibney's CIA Father
Documents from the FBI file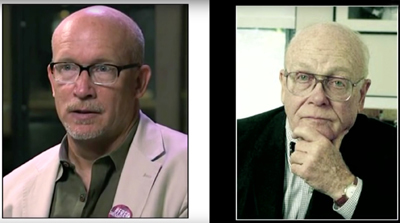 As we reported earlier, it was the late Frank Gibney, a journalist who was secretly part of the government's massive Cold War propaganda and disinformation machine, who launched his son Alex on his career path—propagandist extraordinaire making one-sided films.
Frank's influence is evident in Alex's films, be it on the Church of Scientology, technology pioneer Steve Jobs, WikiLeaks' Julian Assange or the Catholic Church. Indeed, it was Frank who gave Alex his break when he served as project director on a 10-part 1992 documentary on Pacific Rim economies that Alex wrote.
Frank's service as a government propagandist touches some of the biggest disinformation campaigns of the Cold War. In writing of that era in a 1977 piece for Rolling Stone, Carl Bernstein of Watergate fame stated that "more than 400 American journalists … in the past twenty-five years have secretly carried out assignments for the Central Intelligence Agency, according to documents on file at CIA headquarters."
These assignments, Bernstein said, included "planting subtly concocted pieces of misinformation" and "serving up 'black' propaganda." And one of the government's loyal minions was Frank Gibney.
The FBI released 83 pages from its Frank Gibney file. Included are memos from some of the top figures involved in U.S. foreign and domestic spying showing they were intimately familiar with Frank Gibney. In fact, the nation's top spy—former CIA Director Allen Dulles—was a regular pen pal.
Included in the document trove is a July 19, 1965, memo from FBI Director J. Edgar Hoover showing "[the] White House has requested rush investigation of Gibney, who is being considered for White House staff position." Watergate's "Deep Throat," top FBI official Mark Felt, signed off on another memo that same day calling for "a full field investigation" of Gibney.
FOIA documents also show that in World War II, Frank was selected as an intelligence officer and Navy interrogator at the age of 18. Following the war, the papers note his work with Time Inc. and its publications, Time and Life. Bernstein reported that CIA officials described the agency's association with Time Inc. as one of three that were "by far the most valuable."
Of note, FBI records vastly contradict Alex Gibney's own account of his father's career. In an effort to paint his father as a muckraking rebel who bravely stood up to his bosses at the risk of losing his job, Alex told CBS News the following in September 2015:
"They say to succeed you're supposed to suck up and kick down. Well, he was the classic guy who sucked down and kicked up, which is never a good career path! He was at Time, then fired. At Newsweek, fired. At Life, fired."
But it's not true, according to the FBI. One 1965 FBI report about Frank Gibney from the FOIA files shows that in their background check they found Frank "voluntarily resigned" from Time Life and that he left "for a position as editor of Show Business Illustrated."
Those records also show that "On July 23, 1965, [name deleted], Personnel Department, advised that the appointee was last employed from July 15, 1957 to April 22, 1961, when he voluntarily resigned." FBI interviews on July 22, 1965, with Max Ways, who edited Gibney's work at Time, showed that neither he nor John Jessup, who supervised Gibney at Life, mentioned anything about Frank being fired from Time or Life. In fact, they said he "left Time Life because of a better offer from Show Business Illustrated."
So much for Alex's tale of Frank being fired for high principles. So son Alex's propaganda now extends to the stories he tells about his own father's career track. How accurate can his films be when he can't even get the facts right about his own father's life?
More to come…